There have been many articles about the changes brought about by the global pandemic. I have also decided to add something from myself, but focusing on the more positive aspects. 
Remote work is no longer a benefit, it is a new reality 
Remote work for the IT industry, in fact, is nothing new, even before the coronavirus pandemic it was regarded as a benefit at many organizations and made life easier for employees working in this industry. The last two years have completely changed its face and remote work has become an integral part of life for all tasks that can be transferred to the virtual world. For some, it is an obvious advantage, as we do not waste time, for example, on the way to the work place, while for others, it is a disadvantage that limits social contacts and keeps us at home for months. Today we know that only both of these views taken together give the full picture of the situation, but it is definitely worth to look at the available options. 
New opportunities – a candidate on the remote job market 
From the candidate's perspective, the pandemic has changed even more – it has opened the door to work from practically any location, and the place of residence is no longer an obstacle for starting to work at your dream company. Now, as never before, we can observe an avalanche of fully remote job offers, which allow you to come into contact with a different environment, a different organizational culture, without leaving home. Of course, some elements of the recruitment process have become more challenging, because a good presentation of your knowledge and skills using the camera on your laptop is definitely more difficult. A live interview adds a relationship-building aspect to the communication and changes the nature of the meeting, making it less formal at least. We will certainly write more about tips on how to make a good presentation during a remote recruitment process, but now I would like to invite you to read the rest of the article. 
What do employers think about all of this?
Just as for candidates, for employers and recruiters representing companies the introduction of remote working has significantly expanded the possibilities of finding new talent. However, after the initial phase of excitement, one begins to wonder how all this affects the efficiency of performing tasks and therefore we would like to share our own experiences regarding this issue. Last year confirmed our conviction that work efficiency did not depend only on doing the job from a specific place, which usually was an office. However, work efficiency always depends on motivation, understanding of the mission, good onboarding and, above all, on an organizational culture focused on continuous communication. 
Based on understanding this dependency and opening up to the possibilities that remote work gives us, we have decided to recruit not only in Cracow, but throughout Poland. It has been a completely new experience, but at the same time a very valuable one, both for me as a recruiter, as well as for the whole company whose ranks have been reinforced with new talent coming from different parts of Poland. 
Take a look at the map on which we have marked the cities that our colleagues work from: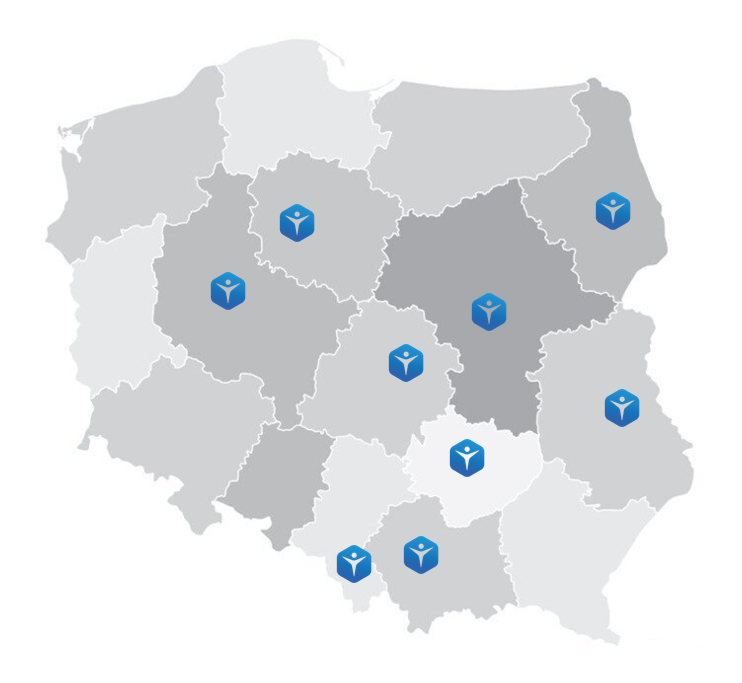 Of course, instant messaging that facilitates daily work can't replace direct contact with another human being (at least for now, but that's a topic for another article 😉), so whenever possible, we try to get to know our team members by inviting them to our office in Cracow.
However, it still doesn't change the fact that we are working great in our current form and we are happy to meet talent, also from other parts of Poland. 
If you find our offers interesting and appealing, go ahead and apply – we will be happy to meet you, no matter where you come from.